Found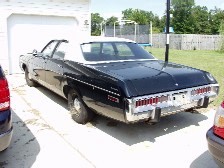 I always liked the '73 Polara, I drove them at
the NC Justice Academy when I was a rookie.
I found one in North Carolina in 2005. This was
an original CHP slicktop, named for the lack
of roof lights, it was harder for people to spot.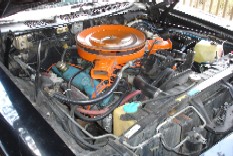 It was equipped with the 440cid big block,
375 hp high output engine. A little tired and
smokes a little but runs just fine. The air cleaner
cover is flipped over on purpose. It made a cooler
noise when we put our foot in it (floored it) most
cops also thought it gave better gas mileage
and made the car go faster, but that's arguable.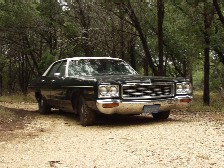 Arranged to have it shipped to Texas. Here
it is at its new home. The body is nice and
straight, relatively rust free.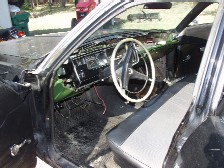 The dash panel was a mess, I ordered a new
one, the fuse box had melted at some point
in the past due to some wiring added without
proper fusing. I replaced it and created a
replica CHP switch panel.
(And a special note to all you nutbags that
seem to think that police cars come from some
sort of secret skunk werks and are made from
alien alloys with 'special' equipment...
Police cars are a fleet order, that is a large
order that may have a unique combination of
options. They are really more akin to taxi
fleet orders with heavy duty service spec.
components and high performance opetions
thrown in. The cars ride down the same
assembly lines, they are just optioned
differently. So that mine had a green dash
underneath means about as much as your opion
on creationsim; nothing. What counts? Is the
cars VIN number in the pool of cars ordered.
If it is, it is.)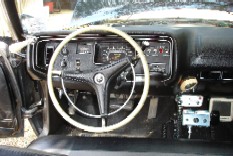 The CHP switch panel to control the lights and
siren. It's in the place of the AM radio which
was deleted from the CHP cars. You can see the
spedometer registers 140 MPH and there is an oil
oil pressure guage as well as an A/C cutoff switch
for stopping the compressor during pursuits.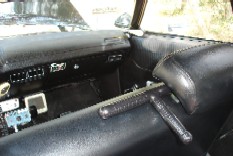 We used to stow our PR24 batons under the
headrest. If we put it into the seat like the old
wooden baton it would heat up and bend to
match the curve of the seat.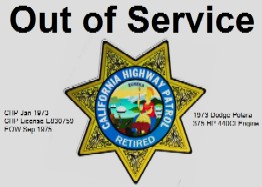 This placard sits in the window, don't want
anyone to confuse the historic vehicle with a
real police vehicle.


Fixup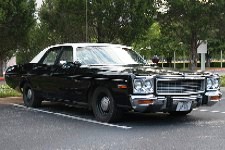 First car show, the 2006 IBM Car Show in
Austin. No work other than just clean it up.



Cleaned up and ready to hit the road.
Using the Polara as my daily driver here
in Austin Texas. Gets some funny looks.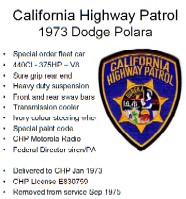 My car show data sheet.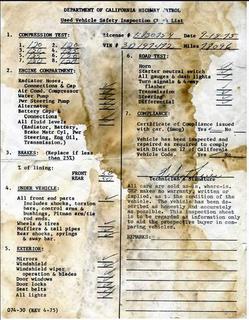 The CHP Checklist when my became civilian again.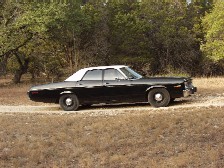 Great car for the commute, but since it
needs premium gas and gets only about
10 MPG it's a bit costly.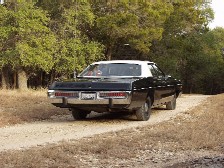 The car sounds great with a cammed loping
throaty 440 engine noise through dual exhausts!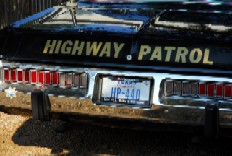 The next job was to get the correct emblems
on the car, but so that I could still drive on
the street without creating a panic. I used
magnetic material to mount the decals.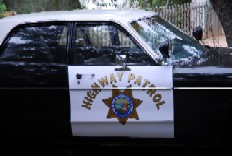 I used the same magnetic material in white
for the door decals. There is a slightly strange
break caused by the door moulding, but I didn't
want to remove that. Now it's very
official looking.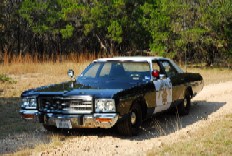 All dressed up in official CHP livery. Partial
restoration of my 1973 Dodge Polara Police
Pursuit;
440 4-bbl. HP V-8 engine
8.2:1 compression ratio
280 Net HP at 4,800 RPM
380 ft-lbs at 3,200 RPM
A-727 Torqueflite 3-speed
3.23:1 Sure Grip 8-3/4" axle
Weight 4,354 Lbs.

It's 1 of 1,765 Dodge Polaras ordered by CHP
in 1973 at $3,211.00 each. Delivered by Swift
Dodge, Sacramento CA in March 1973.

Specs from Road Test Magazine in Sep 1973:

0-60 in 11.2
1/4-mile in 17.3 at 83 MPH
Top speed 130 MPH
www.kumhyr.com
Interested in the Car?
Equip
&Show
Car Shows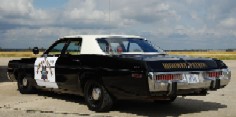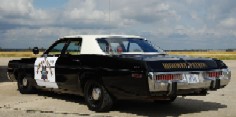 All decked out with emblems at the San
Marcos airport for the magazine photo shoot.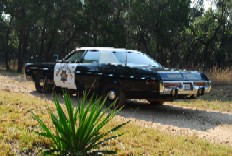 Starting to look just like it did in '73.
A very official historical vehicle.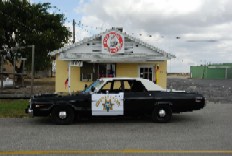 Out for a 10-99 at the Phantom Cafe at
San Marcos airport.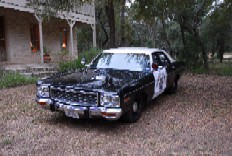 Code 4 in front of my house.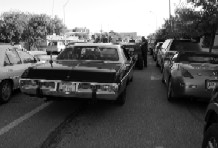 At the South Congress Avenue Car Show,
which is more of an all day cruising event.
I had a lot of people begging me to pull
them over for a fun photo op. Here a street
rodder from Oklahoma mugs for the camera.



Showing Ponch at the 2007 IBM Car Show in
Austin. Also had a demo display of RADAR and
how it works. Hope to have a working VASCAR
demonstration for 2008. (A little science and
trigonometry demonstration for the school kids.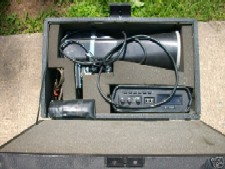 My RADAR unit a '73 vintage Kustom Signals
MR-7. Yes, while I did write a lot of speeding
citations over 22 years of patrol work, I am well
aware of the limitations of police RADAR and
always had "an opinion of my own, separate and
apart from any speed measuring device as to the
defendant's speed". THE standard of proof in court
that most technical articles on RADAR forget
to mention...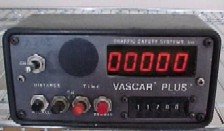 VASCAR (Visual Average Speed Computer And
Recorder) is a simple stopwatch and distance
computer. Not detectable since it is the officer
triggering a stopwatch to time you over a set
distance.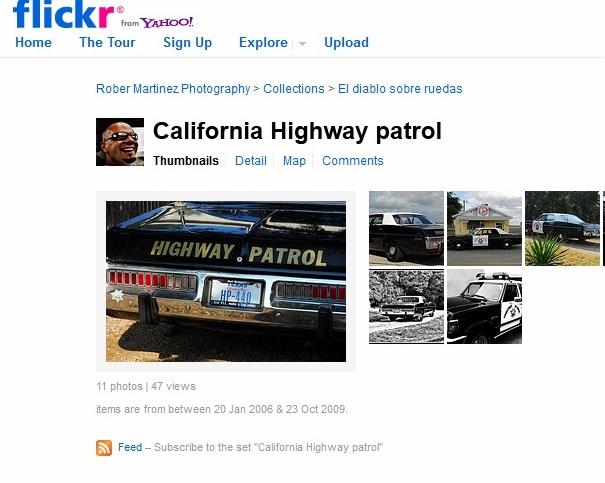 Funny...
Rober Martinez Photography has a nice web page on
Flickr images.. however small problem one of those
pages is composed entirely of photographs that of my car,
taken by me, on my property in Austin Texas. Pretty neat
trick for a photographer in Spain that Iíve never met!